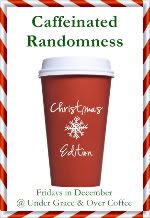 I'm happily caffeinated...and excited to be with all the caff, half caff and decaf gals again! Today we were instructed to share our most
bizarre
ornament(s). We're supposed to take pictures and 'splain why we possess these jewels in our collections!
I should start by saying that I
LOVE
all my Christmas stuff...especially our new Willowtree nativity...that's growing slowly each year.
This year we gained the shepherds, some sheep and the CAMEL.
Seriously
, that's
bizarre
...and in my humble opinion a marketing ploy to get you to buy the wise men.
And ya'll know...I have issues with the wise men being at my manger scene...I've already planned for them to be on the bookshelf across the room
(which is a two to three year journey for all those interested, ha ha)
...so I was going to leave the camel in the box...but my Loverbrains thought he was cute and felt bad for him...so now he's off to the side...I've decided he belongs to the innkeeper! How
bizarre
!?
Also
bizarre
is the use of many decorations from our wedding. We were married Dec. 21st ...almost six years ago. Yeah! I figure it's sort of odd to use things from one's wedding each year...but very cool too...right?!
Okay, I think my most
bizarre
ornament is this noodle angel. She's made of four types of pasta...bow tie (wings), penne (body), elbow mac (arms), and that Stelline (hair)...a tiny bit of ribbon, music, glue and a wooden ball...and VOILA...
a noodle angel
. A tad
bizarre
but pretty cute!!
I get a kick out of this
bizarre
little melting snowman each year. I should make some more and send them to my Southern relatives. He he he!
Every time I hear the word bizarre I start singing this song...which I know nothing about so had to look up the lyrics to make sure it's er, kosher...I didn't really understand them but there wasn't any swearing...so I thought I'd include the imeem link in case any of ya'll wanna bop along while reading this...hehehe! Have a very Merry and BIZARRE week!!

How Bizarre - OMC