My FAVORITE Christmas movie of all time is White Christmas. I love love love it! Every year I say I'm going to buy it...but I don't...cuz it's on TV...and then I get all bent out of shape because they chop it all up to make it fit the time slot. Loverbrains then hunts about for me until he finds the one time they air it as the full version (cuz he's wonderful like that)...and we watch the WHOLE thing! I love all the songs and dance numbers. I love the story too!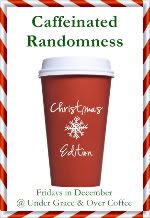 One of my favorite childhood memories is of my Dad laughing hysterically over this "Sisters" number that Bing Crosby and Danny Kaye mimic! We couldn't tell if we were having more fun laughing at them or him!

I sing this song, "Count Your Blessings (Instead of Sheep)" to my Sweet Boobah boy when he's sick (which has been often in his little life)...and it's sort of his lullaby!
This is one of those songs they always chop out of the TV edited versions. AHHHH...it's one of my FAVORITES! I love the mustard colored dress on Vera-Ellen...so modest and gorgeous!!
I love this sexy crooning number by Rosemary Clooney...
AH...what a great movie
. It has two of the best crooners of all time in it. Aren't Bing's eyes the clearest blue you've ever seen!? And her dress...wooowooo!