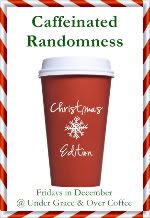 I was born into a very musical family. I often say I'm an eclectic music lover...meaning I love all music genres...reggae, jazz, veggie, classical...I do struggle with hard rock and rap...So, my Christmas selection is wild and wacky...a little like me!!

This is my favorite song to dance about with the kids...it's just silly!!

This gets me groovin'...it's really funny to
watch me
sing this one...hehehe! Don't worry you won't be given this opportunity.
Well, do ya...huh, huh...do ya have Christmas JOY down in your soul!??
I like this little Veggie Tales song...the whole singing Christmas tree thing cracks me up!
This is a fun Cuban version of Oh Come Emmanuel...
this year
I think it's my favorite...